The Disney Readathon is running from August 1st to August 31st (here is
the link to the Twitter page
with all the information)! I did the quiz but decided to choose Team Tangled as I preferred the prompts. So here are the books that I plan to read for The Disney Readathon!
Rapunzel: Read a book with glowing reviews (10 points)
For this prompt, I am going to read
A Darker Shade of Magic
by V. E. Schwab. This is a highly hyped fantasy series about a man that can travel between different versions of London, each with varying levels of magic.
Synopsis:
Kell is one of the last Antari—magicians with a rare, coveted ability to travel between parallel Londons; Red, Grey, White, and, once upon a time, Black.
Kell was raised in Arnes—Red London—and officially serves the Maresh Empire as an ambassador, traveling between the frequent bloody regime changes in White London and the court of George III in the dullest of Londons, the one without any magic left to see.
Unofficially, Kell is a smuggler, servicing people willing to pay for even the smallest glimpses of a world they'll never see. It's a defiant hobby with dangerous consequences, which Kell is now seeing firsthand.
After an exchange goes awry, Kell escapes to Grey London and runs into Delilah Bard, a cut-purse with lofty aspirations. She first robs him, then saves him from a deadly enemy, and finally forces Kell to spirit her to another world for a proper adventure.
Now perilous magic is afoot, and treachery lurks at every turn. To save all of the worlds, they'll first need to stay alive.
Flynn Rider: Read a dark/ mysterious book (10 points)
I am planning on reading
Dark Matter
by Blake Crouch for this prompt. This is another book that has been on my shelf for a while. It follows a man who wakes up to find that his life is not actually his life. It is very mysterious and I really want to find out the truth to this plot!
Synopsis:
Jason Dessen is walking home through the chilly Chicago streets one night, looking forward to a quiet evening in front of the fireplace with his wife, Daniela, and their son, Charlie—when his reality shatters.
It starts with a man in a mask kidnapping him at gunpoint, for reasons Jason can't begin to fathom—what would anyone want with an ordinary physics professor?—and grows even more terrifying from there, as Jason's abductor injects him with some unknown drug and watches while he loses consciousness.
When Jason awakes, he's in a lab, strapped to a gurney—and a man he's never seen before is cheerily telling him "welcome back!"
Jason soon learns that in this world he's woken up to, his house is not his house. His wife is not his wife. His son was never born.
And someone is hunting him.
The Snuggly Duckling Crew: Read a book with a dreamy cover (10 points)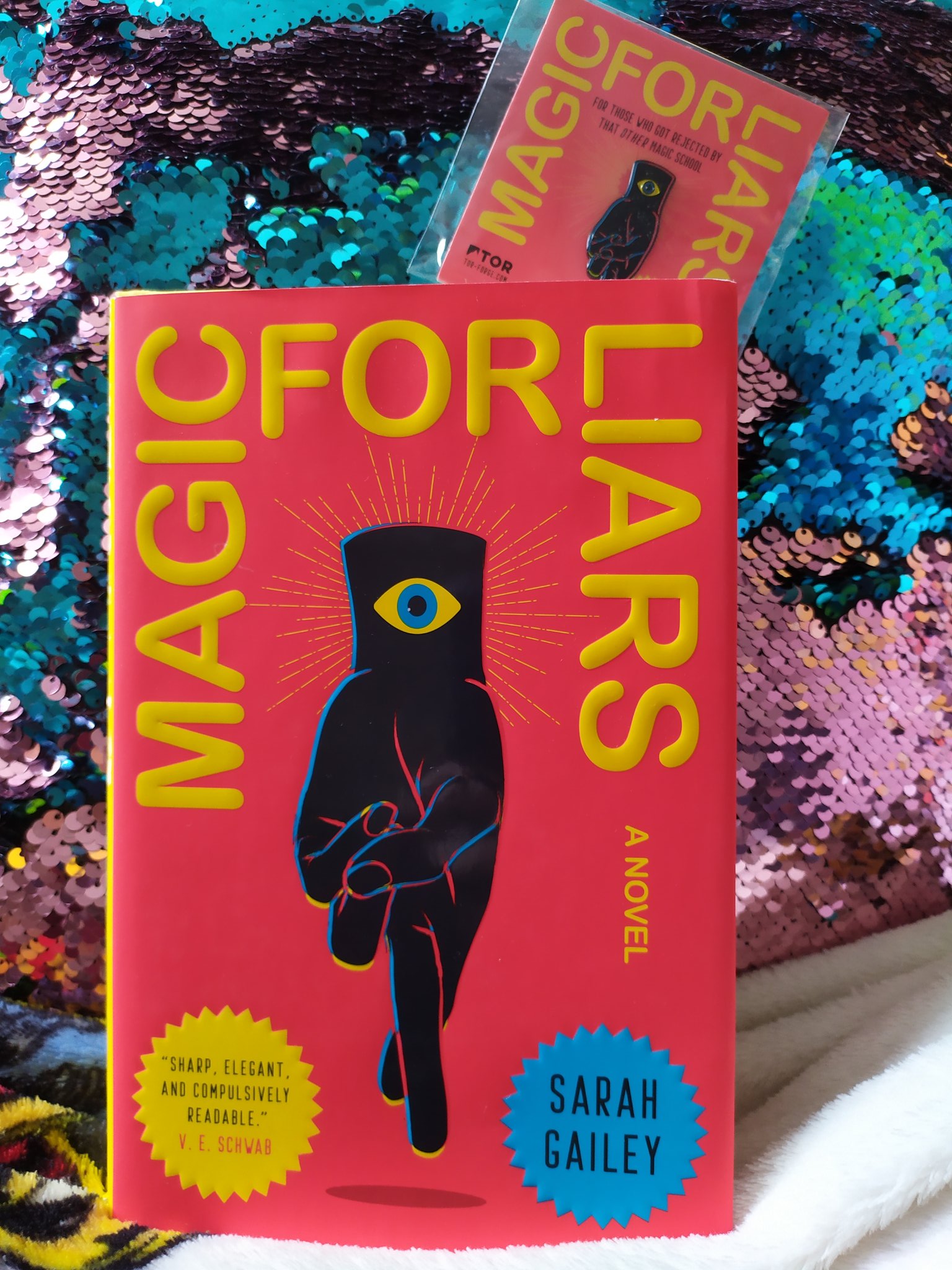 I have chosen
Magic for Liars
by Sarah Gailey for this prompt. This is a recent release that I was sent to honestly review on my blog. The cover is absolutely beautiful.
Synopsis:
Ivy Gamble has never wanted to be magic. She is perfectly happy with her life—she has an almost-sustainable career as a private investigator, and an empty apartment, and a slight drinking problem. It's a great life and she doesn't wish she was like her estranged sister, the magically gifted professor Tabitha.
But when Ivy is hired to investigate the gruesome murder of a faculty member at Tabitha's private academy, the stalwart detective starts to lose herself in the case, the life she could have had, and the answer to the mystery that seems just out of her reach.
Mother Gothel: Read a book featuring a power-hungry character. This book must be out of your comfort zone. (25 points)
For this prompt I have chosen another book that has been on my shelf for some time:
Wolf by Wolf
by Ryan Graudin. This is out of my comfort zone as it is a historical fiction (albeit mixed with fantasy) and I haven't read much historical fiction to date.
Synopsis:
Her story begins on a train.
The year is 1956, and the Axis powers of the Third Reich and Imperial Japan rule. To commemorate their Great Victory, Hitler and Emperor Hirohito host the Axis Tour: an annual motorcycle race across their conjoined continents. The victor is awarded an audience with the highly reclusive Adolf Hitler at the Victor's Ball in Tokyo.
Yael, a former death camp prisoner, has witnessed too much suffering, and the five wolves tattooed on her arm are a constant reminder of the loved ones she lost. The resistance has given Yael one goal: Win the race and kill Hitler. A survivor of painful human experimentation, Yael has the power to skinshift and must complete her mission by impersonating last year's only female racer, Adele Wolfe. This deception becomes more difficult when Felix, Adele twin's brother, and Luka, her former love interest, enter the race and watch Yael's every move.
But as Yael grows closer to the other competitors, can she bring herself to be as ruthless as she needs to be to avoid discovery and complete her mission?
Maximus: Read the group book (50 points)
The group book for Team Tangled is
A Curse So Dark and Lonely
by Brigid Kemmerer. This is a book that I have been planning on reading so it's a good fit for me! All I know is that this is a young adult retelling of Beauty and the Beast and I am here for that.
Synopsis:
Fall in love, break the curse.
Cursed by a powerful enchantress to repeat the autumn of his eighteenth year, Prince Rhen, the heir of Emberfall, thought he could be saved easily if a girl fell for him. But that was before he turned into a vicious beast hell-bent on destruction. Before he destroyed his castle, his family, and every last shred of hope.
Nothing has ever been easy for Harper. With her father long gone, her mother dying, and her brother constantly underestimating her because of her cerebral palsy, Harper learned to be tough enough to survive. When she tries to save a stranger on the streets of Washington, DC, she's pulled into a magical world.
Break the curse, save the kingdom.
Harper doesn't know where she is or what to believe. A prince? A curse? A monster? As she spends time with Rhen in this enchanted land, she begins to understand what's at stake. And as Rhen realizes Harper is not just another girl to charm, his hope comes flooding back. But powerful forces are standing against Emberfall . . . and it will take more than a broken curse to save Harper, Rhen, and his people from utter ruin.
There are further prompts- you can travel between maps so as a member of Team Tangled, I could complete prompts from any of the other teams. However, I am being (semi-)realistic with my reading goals and just aiming to read for the Team Tangled prompts.
Are you participating in The Disney Readathon?